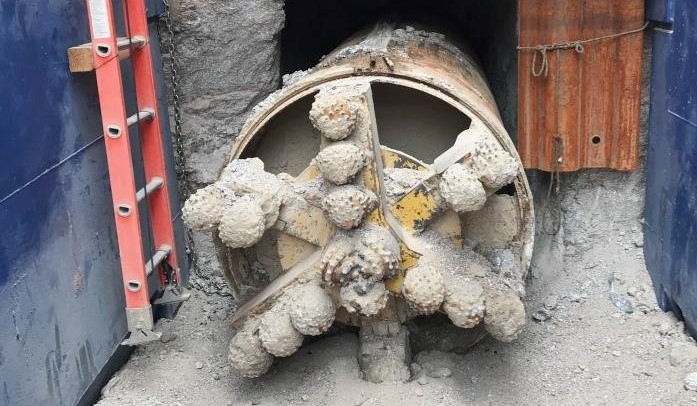 Horizontal Boring & Tunneling, of Phoenix, AZ, recently completed a 54″ diameter bore 440' in length through hard, caliche rock. The project required a 24″ sewage line be installed under I-17 in Anthem, AZ. Horizontal Boring used a Michael Byrne Mfg. D72-1.5M auger boring machine and a 54" retractable, roller cone cutting head to complete the job.
The roller cone head features a spring-loaded overcut. This allows the cutting head to be retracted back through the casing for repair or for line & grade confirmation.
To combat the tough ground conditions the cutters on the roller cone were changed twice during the bore. Additionally, the cutting head was cooled with lubricant to prolong the life of the cutters and the bearings.
Roller cones are typically used in hard rock applications, where the rock hardness is between 10,000 – 40,000 psi.